SabarBody Massager, Magic 6 Massager, Electric Body Massager
BodBody Massager, Magic 6 Massager, Electric Body Massager
Sabar Massabar, Magic 6 Massager, Electric Body Massager
Sabar Body Massager, Magic 6 Massager, Electric Body Massager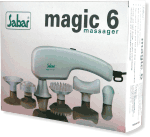 A Compete Body Massager
with 6 unique attachments



Effectively massages all parts of your body

Application:
Sabar Magic-6 Body Massager is a Handy Massager to massage parts of your body, not only when there is pain caused by muscular or nervous disorders, but on the regular basis to keep your body fit and trimmed.

It is used for massaging all parts of the body with its six different soft type of attachments to suit the physical structure of the muscles and nerves and massages in real sense.

Special soft face Attachment keeps your facial skin and muscle trimmed.

Soft scalp Attachment massages scalp skin and soft tissues penetrating hair.

Special spine attachment massages side muscles of the spine.

Special acupressure attachment is ideal for massaging acupressure points (chart for palm and feet provided)

Regular massage of 2-3 times a day, keeps you active, fresh and smart.
Features:
A complete Body Massager with six different soft Applicators.

Attractive Design

Provides High speed low stroke and Low speed high stroke thriving massage.

Low power consumption.

Easy to operate.
How does Body Massager help:
Massage affects the body as a whole. To understand how massage therapy works, some of the physiological effects of massage need to be briefly examined.
Massage is known to increase the circulation of blood and flow of lymph. The direct mechanical effect of rhythmically applied manual pressure by a Body Massager and movement used in massage can dramatically increase the rate of blood flow. Also, the stimulation of nerve receptors causes the blood vessels (by reflex action) to dilate, which also facilitates blood flow.
A milky white fluid called lymph carries impurities and waste away from the tissues and passes through gland-like structures spaced throughout the lymphatic system that act as filtering valves. The lymph does not circulate as the blood does, so its movement depends largely on the squeezing effect of muscle contractions. Consequently, inactive people fail to stimulate lymph flow. On the other hand, the stimulation caused by vigorous activity can be outstripped by the increased waste produced by that activity. Body Massage can dramatically aid the movement of lymph in either case.
For the whole body to be healthy, the smallest parts of the body -- the cells -- must be healthy. The individual cells of the body are dependent on an abundant supply of blood and lymph because these fluids supply, nutrients and oxygen and carry away wastes and toxins. So, it is easy to understand why good circulation is so important to our health and why Body Massage can be so beneficial for the entire body due to its effect on circulation alone !
Body Massager, Body Massager, Body Massager, Body Massager, Body Massager, Body Massager, Body Massager, Body Massager, Body Massager, Body Massager, ody Massager, Body Massager, Body Massager, Body Massager, Body Massager, Body Massager, Body Massager, Body Massager, Body Massager, Body Massager
_________________________________________________________
Home | Health Products | Orthotics | Feedback | Contact | About Us | FAQ | Career
Heating Pad | Magic 6 Massager | Travel Pillow | Body Massager | Car Head Rest Pillow
Back Guard | Clinical Heating Mat
_________________________________________________________